Email Newsletter dated: February 08, 2023
 Ready to get your Super Bowl on?
Whether you're a football fanatic or just along for the ride, this annual event is guaranteed to be a touchdown!
After a year of staying home and missing out on big gatherings, it's time to grab some friends and family and get ready to cheer.
And don't worry, we've got you covered ...
Let's get ready to rumble!
Check out our Super bowl eco-friendly home party must-haves!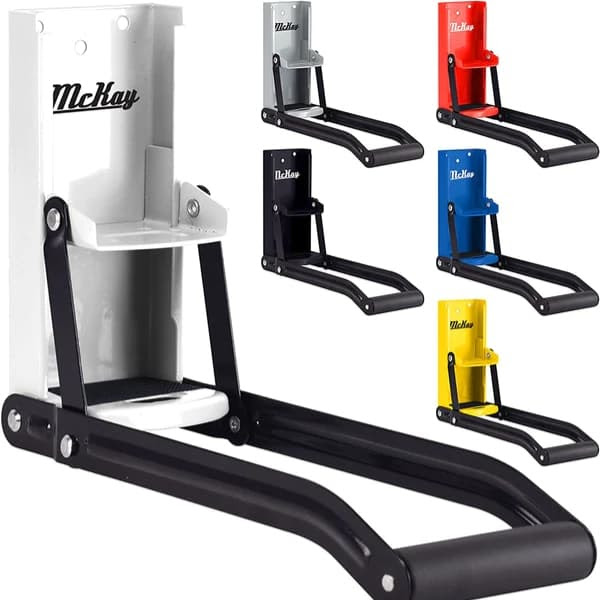 12 oz. Metal Can Crusher, Heavy-Duty Wall-Mounted Smasher for Aluminum Seltzer, Soda, Beer Cans and Bottles for Recycling
Make recycling fast and easy with McKay 12 oz. Can Crusher! This Aluminum Can Crusher instantly crushes most cans to about 1 inch thick.
Crush with Ease!

Simply hold the large cushion grip handle and pull it down to crush cans into a much more manageable size for recycling. Indenting aluminum
cans before compacting makes it easier to crush cans and puts less stress on the mechanism meaning the Can Crusher will stand the test of time.
It is built from high quality materials and will stand up to any aluminum can and continue working and working into the future!
Recycle while having Fun!

The Can Crusher mounts vertically with 4 included wood screws giving you maximum leverage for easier can crushing. It is constructed of heavy
gauge steel with a large cushion grip handle and built-in bottle opener. Now you can haul 5 times as many aluminum cans. It means you'll have
fewer trips to the recycling center and each trip will be worth more money. Best of all, you'll be doing your part to help the environment.
Here's why you'll love this Can Crusher:
Easy to use and built to last.

Makes the recycling process more efficient. Save space in your recycling area by crushing your cans easily and quickly.

The sturdy all-steel construction is durable

Includes a built-in bottle opener for multifunctional convenience.

Mounting locations: Garages, Laundry Rooms, Pantries, Lower levels, Places of work, Recreational Property, Schools, RV's, Hunting Camps, and many more.
Buy Now
Wooden 6-Bottle Caddy with Bottle Opener
Quit lugging perfectly good beer around in flimsy cardboard carriers: get our durable wood six-pack caddy instead and hit the road ready for anything.
Transport up to six bottles of your favorite soda, beer, and more, This caddy set features bottle opener, and six slots for a variety of drinks.

It's even got a bottle opener built into the side, so you can quit trying to pry caps off with odd objects when you forget your opener at home.

Made entirely of wood and metal, this vintage beer caddy has a classic style.Show off your favorite beers with a carrier that highlights their quality.
This unique drink carrier comes with an attached metal bottle opener, so you'll always be able to open your favorite Beverage no matter where you are.
Classical design, suitable for home furnishings,Fits in refrigerator, great beer accessories set for bartenders, restaurants, bars and pubs .Your new caddy can easily be carried to pool parties, tailgating, The beach, or BBQs with the sturdy handle.
Beer caddy is the perfect gift for any brew enthusiast. Buy one Today as a gift for birthdays, Christmas, groomsmen, and housewarmings
Acacia Wave Serving Bowl for Fruits or Salads
Generously sized bowl with a contemporary wave design

Large bowl is beautiful as a centerpiece bowl or serving bowl

Made of acacia

Easy to care for - Hand wash only

Small, 6" Diameter x 3" Height, Single Bowl

1 large acacia wave bowl - Measures: 12" diameter x 7" high
Buy Now
36 Bottle Dual Zone Wine Refrigerator with French Doors 25% More Energy Efficient
The latest innovation in wine refrigerator is here! The Wine Refrigerators have been designed with diverse wine collections in mind.

Most wine coolers on the market are designed with the standard 750 mL bottle in mind, but as you probably know, there does not seem to be a 'standard' anymore.
The revolutionary metal shelving design is both strong enough to support the weight of bottles without sagging and thin enough to give you more storage space between shelves to accommodate larger diameter bottles.


Wooden Wall Mounted Beer Opener with Cap Catcher
Our Vintage Wood Beer Opener is made of premium wood and cast iron cap catcher. It's very durable and rust-proof. With this beer opener, you can use just one hand to open your beer easily and quickly. There is a container on the bottom for you to collect your caps neatly.
HIGH QUALITY. The wood beer bottle opener is made of premium wood and cast iron cap catcher. It's very durable and rust-proof. Size: 11.8inch/30cm x 2.75inch/7cm x 4.75inch/12cm. There may be little size difference due to manual measurement.
VERY PRACTICAL. With this wall mounted bottle beer opener, you can use just one hand to open your beer easily and quickly. There is a container on the bottom for you to collect your caps neatly.
MAKE YOUR LIFE EASIER. You can mount this wooden vintage beer opener set on the wall, fence post or anywhere you want. You don't need to always look for bottle opener in the kitchen drawer any more.
SUITABLE FOR MANY OCCASIONS. This vintage wood bottle opener is perfect for kitchen, patio, cave, restaurant, bar, pub, cabin and so on. It's also a great choice as a gift for your friends, parents or lover, or any beer lovers.

Ice Cube Beer and Wine Cooler Table 16.9 in. L x 16.9 in. W x 16.9 in. H
Designed to be both practical and attractive, the Ice Cube Storage Cooler features square construction and a natural brown rattan finish that allows it to blend in with just about any outdoor living style. This versatile deck box doubles as a drink cooler providing additional space for drinks and snacks when summertime guests come to visit.
DIMENSIONS: 16.9 in. L x 16.9 in. W x 16.9 in. H
10.5 gallon capacity holds enough drinks for the entire family
Weight: 10.8 lbs before adding ice and drinks
Made from durable weather-resistant polypropylene resin
All-weather protection. It won't even fade in the sun.
Easy to assemble - you will have together in minutes
The Super Bowl is the biggest annual event in American sports, drawing in millions of viewers and generating billions of dollars in revenue. To get ready for the Super Bowl, fans often plan parties and tailgates, stocking up on snacks, drinks, and team gear. They may also place bets on the game or participate in fantasy football leagues.
In addition to the game itself, the Super Bowl halftime show is a highly anticipated spectacle featuring popular musicians and performers. The Super Bowl has become a cultural phenomenon, bringing together people of all backgrounds and creating a shared experience that transcends the game itself. Check out these fun super bowl essentials that we have in store for you!