---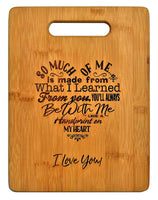 GIFT FOR MOM / MOTHER / GRANDMA – A Specially Designed Mom Words of Love Poem engraved within the shape of a heart. Custom engraved graphics read "So much of me is made from what I learned from you you'll always be with me like a handprint on my heart ~ I Love You". A Special Heart Touch Gift for GiGi, Grandma, Nana, MiMi, Nonna, Momma or any special loved one.
REVERSIBLE DECOR DESIGN – Engraved side designed for Décor, Can be hung on the wall, displayed on a shelf or on the counter. The back side is designed for culinary cutting board usage, Cheese or appetizer serving tray, Comes professionally packaged and engraved as shown only.
STRONG / DURABLE – This Bamboo cutting board measures 8.75" x 11.50" x 5/8" and weighs 1.5 lbs. providing enough space for vegetable chopping, slicing fruits, cheeses. This is a kitchen decor keepsake gift for mom from daughter or a great gift for mother from her son. Mom will most likely treasure this one as a kitchen décor and hang it in her kitchen for years to come.
BEST CARE: Hand wash only with warm water and light soap and dry immediately! After it is washed and dried routinely use cutting board grade food safe mineral oil and/or conditioner to keep it moisturized and looking great for years to follow, never put any wood cutting board in the dishwasher.
ENGRAVED TUMBLERS, PICTURE FRAMES, CUTTING BOARDS AND MORE: for Dad, Mom, Family, Friends Grandma, GiGi, Nana, Grammy, Grandpa, Gramps, Pop-Pop, Poppy, Coach, Best Hunting Dad Ever, Best Mom Ever Gifts, Housewarming, Graduation, Christmas, Birthday, Valentine's Day, Flasks and more! Click above on (GK Grand Personal-Touch Premium Products) to see our many great gift ideas!