---
Posted by Eco Trade Company on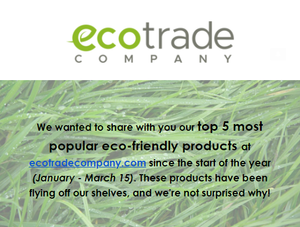 Email Newsletter dated: March 20, 2023     We wanted to share with you our top 5 most popular eco-friendly products at ecotradecompany.com since the start of the year (January - March 15). These products have been flying off our shelves, and we're not surprised why!   Organic Lip Balm - Fruit Flavors "When you get chap stick usually chapstick brand your lips tend to feel more chapped after. This is the first product I feel has actually helped in that department." - Mandy     View Lip Balm   Disposable Bamboo Napkins "The napkins work great with my house decor. They are soft and...
---
Posted by Eco Trade Company on
Email Newsletter dated: March 16, 2023 We've all been there - dealing with negative comments from our social circle when we're trying to make sustainable choices.   It can be tough to stay motivated and committed in the face of criticism, but remember - you're doing this for a reason.   You're taking a stand for a better future, for the health of the planet, and for your own personal values. And that's something to be proud of.   So when the negativity starts to get you down, take a deep breath and remind yourself of your motivations.   Think about the...